Concord's best bromance
Aiden and Connor win Concord's best bromance.
Two amazing individuals at Concord come together to create our school's best bromance: Aiden Richardson and Connor Keefer. 
After high school, they hope to continue their bromance at Jackson College for two years. Richardson explains, "I am going to Jackson Community College for two years and then transferring to a bigger school. I am going into the zoology field." Keefer then explains, "We're planning on going to college together and then will probably end up transferring to different colleges. But, we are planning on renting a house together." Connor later explains what he has decided on for a career. "I am hoping to go into some type of computer technology, like cyber security or some type of computer programming."  
Connor and Aiden both came to Concord in fourth grade and clicked instantly. Aiden explains that they have been super good friends for about eight years now and hopes that there are many more to come. Throughout these years, many memories have been made. Aiden shares his favorite memory: "There's so many but probably when we used to hang out at Nathaniel's house in town a lot when we were in middle school. A lot of stuff happened there." Connor shares his favorite memory as well. "My favorite memory was when we went up north and went camping."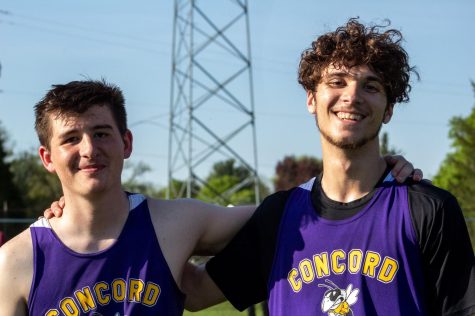 They have both experienced so much growth throughout their high school years. Aiden says that "[he's] matured a lot throughout high school, well at least a little bit." Next, Connor explains his growth: "I've come to realize how serious high school really is and how it can impact my life. Before, I didn't really care about high school." 
Their friendship has grown so much and is only going to grow from here. Richardson explains why he believes they are such good friends when he shared,  "Our personalities match, and we have the same humor. He makes me laugh a lot, and I make him laugh a lot." Keefer then explains why he believes they are such good friends: "Our humor is really alike and we just understand each other. We're practically the same person, he'll just have these little quotes and I'll just understand. Our body language even matches." 
Aiden really appreciates Connor's friendship, and that he is always by his side, adding that, "His best quality is that he makes me laugh."  Connor explains Aiden's best quality: "He is just a really good friend and he always has my back no matter what. He always gives me good advice and tries to keep me out of trouble." 
Aiden and Connor hope to still be best friends in ten years. Connor shares what he thinks his life will be like in ten years. "In ten years, I think I'll be out of college, in a decent house, maybe kids, and Aiden will definitely be my neighbor or we will have a mansion together." Aiden also shares his hopes in ten years: "Hopefully I will be working at a zoo somewhere and I will definitely still be friends with Connor." If both of them decide to have kids, they both explain that they will be best friends. Connor shares that "our plan is to still be friends. Aiden's going to be their uncle."
Everyone knows that Connor and Aiden are such good friends. They even got voted best bromance in the senior class. Connor says, "We got voted best bromance because everybody sees us together all the time. On top of Jur always making some stupid jokes to everybody just sees us together 24/7." Aiden shares that he also believes they got voted best bromance because "[they] hang out with each other a lot more than everybody else."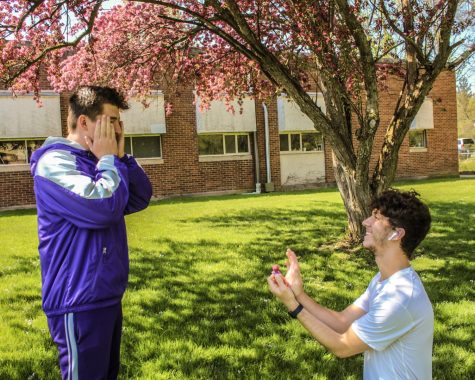 Coach Juresek has been both their indoor and outdoor track coach. "The thing I really enjoy about Aiden and Connor is that they encourage and push each other to be better in anything they do; to like their athletics. I have been working with them in indoor and outdoor track, and they both are very hardworking and diligent people. Their friendship is a positive thing. It's what I like to see when one friend is trying to help another. They just have a really great relationship."
We hope to see these two continue their bromance for many years to come. Connor shares that he hopes it is just smooth sailing for the both of them from here. We wish them both the best of luck in all of their future endeavors.