Senior Spotlight-Sam Kessman
Spotlighting our amazing Concord student, Sam Kessman.
Her friends would describe her as fun, energetic, and caring. These all add up to make one amazing person: Sam Kessman. This is why the Concord Chronicle is honored to spotlight her this week. 
Time flies. Sam has been going to Concord since kindergarten, and now she is a graduating senior. Throughout her time here, she has been involved in volleyball, including both club and school ball and competitive cheer. She explains that, "[She] will really miss the family aspect that comes with being on a team." She also is involved in NHS, is a student class representative, and runs the student section Instagram. Kessman has dedicated so much of her time to Concord, and we appreciate it!
High school is all about growth and planning the rest of your life. Kessman explains that throughout her high school career, she has grown as both an athlete and a student. "High school is all about growing as a person both mentally and physically," she further explains. After high school, she plans to attend Western Michigan University to pursue a degree in sports marketing. 
In Kessman's free time, she loves going to Target and reading. She also loves watching the movie, Cars. Kessman explains that she listens to every genre of music and really enjoys Harry Styles.
She not only enjoys music but also following the interesting lives of celebrities. Sam explains that her favorite celebrities are Michael B. Jordan and Ross Colton. 
Kessman's bucket list includes so many ambitious activities. One place Sam would really like to visit is London. Last summer, she spent ten days in Europe. 
Senior Autumn Cornell has known Sam for a while now. She describes Sam as energetic and true to herself. Autumn shares her favorite memory with Kessman: "My favorite memory is probably going to my grandparents' cabin in North Carolina." 
Right now, Sam is really enjoying her class, Spanish IV with Mr. Saucedo. Saucedo shares that,  "[He] continues to be impressed with Samantha's determination in learning the Spanish language, along with her overall passion towards her involvement in student government, participation in varsity athletics, and school spirit at Concord High School. Samantha is a bright and attentive student.  In class and in her work, she demonstrates that she is an intelligent and capable student with great potential.  She has always been among the top students in her class, and [Saucedo] is confident that she will thrive in any academic program that she chooses to pursue."
Former Concord teacher, Ms. Heather Felix was a huge inspiration to Kessman, and she believes Felix made her into the person she is today, sharing that, "She made me realize that there is always good in people."
Ms. Felix adds that, "Sam is one of the most amazing students and people I have ever met.  She is kind, generous, includes everyone, and would do anything for anyone.  She works incredibly hard in everything she does, never giving up until she understands.  She knows that difficult times, including doing some work wrong in order to learn, makes a person stronger, more empathetic, and a better version of themselves.  I look at Sam as part of my family.  She is really special, and I miss her a lot. Her determination will make her a total success in life." 
Freshman Emma Burbo, who became much closer to Kessman during volleyball season this year, says,  "Sam is a great person to be around and a great role model. She's really fun and funny, and she never once judged me… I feel like I can be myself around her. She took me under her wing right as volleyball and high school started; it was very relieving starting my first year of high school and varsity volleyball season knowing I had her to help me. She also takes me and my brother to school most mornings and helps with my Spanish homework. She likes to call me her kid, and it's great to have her by my side this year. My favorite memory with Sam would probably be when I would go home with her after school, and we would watch movies and make food before volleyball games and get slushies after practices," Burbo explains.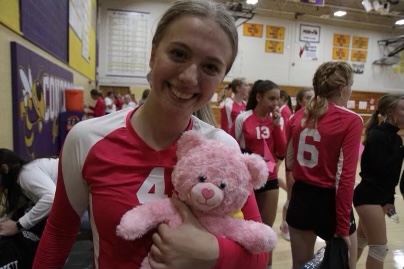 Kessman reminisces that all throughout her days here, countless amounts of memories were made. "One of my favorite memories would have to be when I was on Homecoming court. It was very special."
When asked what does it feels like to finally be a senior, Kessman explains that, "It's bittersweet. We've gone through so much in our high school career." Kessman also explains that she is conflicted about graduating: "I'm definitely both excited and nervous, but I'm probably more excited because I get to create my own life."
Kessman explains that she would like to be remembered for "being too swag and just genuinely being a good person." She would like to leave our readers with this piece of advice; "I know it seems hard but don't worry about what other people think of you." We wish Sam the best of luck in all of her future endeavors; or as Tow Mater from Kessman's favorite movie, Cars would say "Goodbyeeeeeeeeeeee!"