Pumpkin decorating contest
On your mark! Get set! PAINT! NHS held a pumpkin decorating contest for students to paint a pumpkin and win a big bag of candy last week toward the end of Flex Wednesday. There were twelve participants in the contest, but there were many students who excitedly signed up once the pumpkins were in the building. 
After the second NHS fundraiser of the year, senior contestant Hannah Jordan says, "I'm impressed with the outcome of the contest and with how many people wanted to participate. It makes me happy to see how well it turned out, from coming up with an idea, planning everything out, and finally having people participate at the end." Jordan not only helped plan the contest but participated in it as well.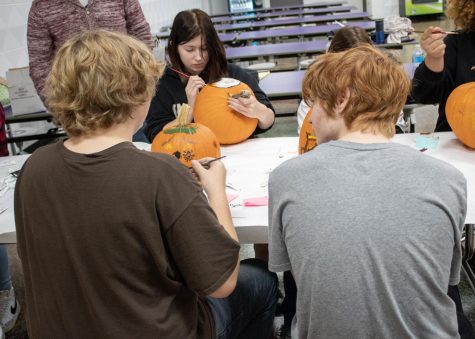 Brigham Bentley, a sophomore contestant, says, "I would definitely do it again if I didn't have to take the pumpkin or if there were more people." Out of the twelve students who painted a pumpkin, only one could take home the big bag of candy. NHS had the student body vote on their favorite pumpkin through a Google form, and the winner of the contest was Kaitlin Inman. Congratulations!