Senior Spotlight: Masen Smith
Masen Smith. You may know him as someone who has impeccable dance moves or a big butt, but besides that, many people would describe him as energetic, funny, caring, loving, and happy. These are all charismatic qualities that not only help Masen stand out but also improve the environment around Concord High School.
Masen has been attending Concord since his sophomore year. During his time here, he has experienced many different subjects, but his favorite is history. His favorite teachers are Mrs. Colangelo and Coach Clark. After high school, Masen plans to attend Jackson College for his first year, then transfer to Albion College to finish the rest of his college years.
Since Masen came to Concord during his sophomore year, Coach Clark has not only been one of his teachers but also his coach. "One of my favorite things about Masen is that he's always dancing and having a good time, no matter what," adds Coach Clark. Masen is a fantastic person who makes you laugh all the time. He is also one of those people who will let others come over to their homes whenever they want. Clark goes on, "Honestly if Masen ran for president, I wouldn't vote for him because he isn't tough enough to win. I don't think he would be able to make difficult decisions without feeling bad; even though he's a great kid, I still wouldn't vote for him."
Lewie Fritz has known Masen since sophomore year. When asked what Masen is like as a friend, Lewie explains, "Masen will never say anything bad about you and will never put you under the bus; he's always uplifting and just a very caring person in general." Fritz continues, "Two things that stand out about Masen are that he is thick and he has a big butt. He would be the first person you pick out of a room because he looks like a big teddy bear."
People make a lot of memories throughout their high school experience as athletes. When Masen came to Concord, he joined the football team and did just that, making great memories he'll hold onto for a lifetime. One of his favorite memories happened this year when he ran a 15-yard run on senior night against Vandercook. He also has a favorite memory from school in general. Smith explains, "One of my favorite school memories was when I made it on snow-coming court my junior year. The crowd was yelling my name and cheering for me."
Anthony Evans has been friends with Masen for 15–16 years. Evans explains, "One of my favorite memories with Masen is when Lewi threw something at Masen's car, so we went to go buy eggs to egg Lewi's car. We had it all planned and had a video of us about to do it. Masen drove past the car going at least 30 miles an hour, so we barely got to throw any eggs at the car. We went past the car again and threw some more, but Lewi and his mom were both outside. Masen then stopped the car and tried to explain what happened. We were trying to hide, but she was cool about it and gave Masen an egg to throw at Lewi's car, but he then gave it to Nate, and Nate threw it back at Masen's car."
Everyone has goals they want to accomplish in their lives at some point, and Masen Smith says that one of his ambitions is to be a cool dad when he is older. He says, "I want my kid's friends to come over and think that I'm a cool dad."
Masen looks up to some people, including his dad and his Uncle Mike. Smith shares,  "My Uncle Mike works in construction and got me into it, and I've stuck with it ever since." Smith continues, "My dad has taught me a lot about life, and in general, he's a really cool dude."
Masen was asked what he would miss the most about Concord. Smith goes on, "I'm going to miss everything about Concord. I'm so happy that I ended up coming here. I'm going to miss the teachers, sports, and friends I've made along the way. I had three choices for where I could go to school: Concord, Springport, and Western. While I had chosen Springport, my parents said I was going to Concord. I only wanted to go to Springport because I had previously known people who went there, but I also met new people here. I am blessed that they made that decision for me."
Logan Lamb has known Masen since their sophomore year as well; they have great memories together and are great friends. There are many stories they could tell you about, but those are stories for them to tell you because they are better told in person. Lamb shares, "Even though some of those stories aren't able to go in this, one of my favorites is football season. He brings so much energy and excitement, and he's always having fun; it's hard to forget someone like that." Lamb continues, "Masen has a hidden talent for singing; if you give him a microphone, he's hitting those high notes."
Before Masen came to Concord, he was a very quiet guy who was nerdy. Then, when Masen came to Concord, he started opening up and being a cooler person. Smith shares, "I broke out of my shell and started having conversations with people. Football definitely brought people to open arms with me." Smith continues, "If I hadn't come to Concord, I wouldn't have the friends that I have now."
Masen gives exploratory advice to underclassmen: "You should certainly focus, especially in your first year. I didn't focus during my first year of high school, which affected me somewhat in the following years. In addition to not falling behind, my best piece of advice is to just focus."
Masen brings a lot to Concord High School, and we can't wait to see what he does. We wish Masen the best of luck with his upcoming adventure.
Leave a Comment
About the Contributor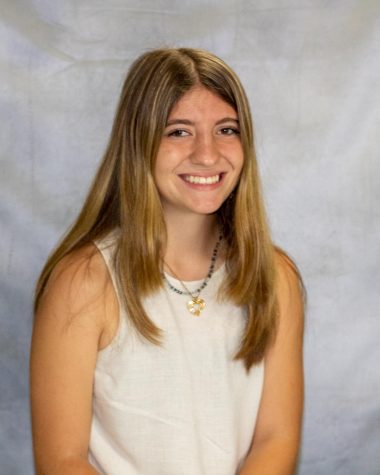 Riley Adams, Staff Writer
Hi! I'm Riley Adams. I'm a second-year staff writer for the Chronicle. I participate in cross country, track, basketball, and softball. I enjoy hanging...