Welcoming the class of 2026 into the high school!
Most recent
More stories from Rylee Sinden, Madisyn Barrett
The current eighth-grade students are a group of unique and hard-working kids who have spent this year preparing for high school. 
Sports are such an important part of many students' lives. Tylend Allen, an excellent track runner for Concord Middle School, will be moving to the high school next year. Allen explains that the best part of track is "the achievements and being able to say that I did it."  Coaches and community members are expecting success from next year's track team, and they will not disappoint. 
Our boys and girls CMS basketball teams are also pretty successful. 8th grader Jett Smith really enjoys basketball and plans to continue through high school. Basketball is important to him because it is really fun for him. Gavin Riske is also a crucial part of the team and has been playing since 2nd grade. He has been working hard because Riske wants to try to be able to play varsity basketball as a
freshman. Connor Stevens works hard in the off-season to improve his basketball skills. He gets ready by "playing basketball with friends and conditioning."
Emma Burbo plays for the lady jackets team. She is a team player and will play "wherever they need [her] at." Burbo says her favorite part about basketball is "working hard as a team."
Bella Coppernoll is the post for our team. She is excited about high school basketball because of "the people playing." 
Concord also has two girl wrestlers in our school; one being Jordyan Metcalf. Wrestling has been her passion for eight years. Metcalf's goal is "to be the first girl wrestler on the wrestling wall of fame."
Our middle school volleyball team is also very successful. 8th-grade student, Lilie Vandenburg has played volleyball for two years now and is super excited for next season. Vandenburg will be taking a big step into high school volleyball next year and hopes to continue playing setter for our team. 
The middle school is also letting go of many excellent cross country runners. Connor Stevens will be moving up to the high school next season. Connor explains why he decided to join cross country. "It looked like the team could use my help so I stepped in. All the seniors left so I felt like I needed to help out the program."
Cece Barrett will also accompany Connor on the cross country team as the dynamic duo takes off again. Barret has been working hard and running xc for seven years. Cece explains that "[she] hopes to be big eight champ this season."
Coach Clark is our Concord high school football coach. "I am excited for our 2nd year of 8-man football. We learned a lot as coaches, and we are ready to get rolling. We will continue to do everything in our power to set the STANDARD for 8-man football in Michigan." "We will have the weight room open in June from 12-1 pm for kids to come in and lift. The weight room is the catalyst for success in all sports. In July the schedule is more complicated. If interested players want to see that they can go to this link to see a calendar. It is updated regularly." Trenton Frazer plays wide receiver, running back, and tight end and will be moving up into our high school football program. He is excited for next year because "[he's] excited to work with Richard."
Nate Fritz is a third baseman and pitcher and is planning to continue playing once he reaches high school. Fritz explains that his brother and grandpa are the people that really got him into it and is thankful that he started playing. 
Maddox Hutchinson loves being part of the robotics team and plans to continue into high school. He explains that building Legos really got him to want to join robotics. He is excited about high school robotics because "you get to build cooler robots." Robotics leader, Mrs. Hawes explains what is unique about the middle school robotics program. "The middle school robotics program is unique because we are one of the only middle schools in the area to offer robotics as a class during the school day. Offering robotics as a class allows many students the chance to be a part of a robotics team, who may otherwise not have the opportunity to do so. Having a class during the school day also allows the students the opportunity for a lot of outreach activities within the school. Other students see all of the cool and interesting things that the robotics students get to participate in, which encourages them to want to join as well," she says. "There are some amazing 8th-grade students who will be joining the high school robotics program next year. Some students are coming up with years of experience in robotics in both FLL and FTC. They have a lot of experience with programming and have designed many different robots. They have shown amazing leadership skills this year in robotics and will be a great addition to the team."
Academics are so important to the students and teachers of Concord Middle School. Julia Stevens skipped a grade and moved up into the eighth-grade class. She explains that moving up was good for her because it helped with her social skills. You may be asking yourself, how does someone even keep up the motivation to get all their work done? Julia explains "just knowing that I can keep up my GPA and get the job I want."
Slade Hellard also works very hard to keep on top of his school work. He explains that getting his work done just comes easy to him. He shares advice that he would give to upcoming middle school students. "Don't mess around and keep on top of work," Hellard explains. 
Upcoming freshman, Macy Sinden works hard and it is important to her to keep her grades up. Sinden explains why it's important to keep up with all of her work. "To be able to participate in sports and extracurriculars." In the future, Macy hopes to go into special forces.
Within the last couple of years, middle school geography, world history, and humanities teacher Ms. Taylor has developed a class called digital storytelling. Chloe Berrington, Emma Burbo, Amiyah Carter, Jaylin Knoblett, Tawana Lawler, Macy Sinden, Ronnique Warnsley, and Lilie Vandenburgh are all part of this class. "The class is unique because the students are learning about digital storytelling through various mediums.  They have done extensive work with graphic design, photography, photo editing, and are currently working on creating group mini-films and working on the yearbook," Ms.Taylor explains. "I think that there are elements of digital storytelling that could impact a variety of careers in the future.  In fact, students just finished a unit on career exploration where they had to design a Google Site based on the career they hope to pursue someday.  Students who are more involved in Digital Storytelling include Chloe Berrington, Macy Sinden, and Lilie Vandenburgh who make up my leadership team. Emma Burbo and Jaylin Knoblett have also helped with photography at events."
Eighth-grader Lilieana Vandenburg contributes a lot to this class. "It was fun, we really had a lot of fun in the class. We learned to take better pictures and being able to understand film better."
Macy Sinden, who is also part of this class says "we learned how to do a lot of stuff on the computer, and got to take a lot of pictures. We also got to have a lot of fun with friends, it was overall a fun class." We are so excited to be introducing these students into the high school next year as they become the future writers and photographers of Concord High School.
Our superintendent, Mrs. Hutchinson explains how unique the eighth-grade class is. "The current 8th-grade group is really unique because they are hardworking and pretty independent.  They are not afraid to be themselves and they have a very diverse sense of interests and hobbies.  They are also very resilient.  Due to the pandemic, they have not had a normal middle school experience. They have lost academic instruction, time developing as athletes, and time to interact socially and develop friendships. However, they have each shattered expectations this year.  They have increased their average GPA tremendously, they have won conference titles, and they have broken school records," she explains. "This group of 8th graders is going to grow into outstanding leaders and advocates. They are going to take their individual interests, hobbies, and passions and bring a lot of energy and enthusiasm to the high school."
ELA and humanities teacher, Mrs. Smith explains why she will miss the class of 2026. "I have enjoyed teaching the class of 2026 for the last three years. I have watched them learn and grow through Covid with persistence and grace. The unique personalities of this group and their strong sense of justice are what has set them apart from other grades. They feel all things with their entire being. They make their voices heard and their presence felt wherever they go. It is that passion that is going to move mountains in the future. Furthermore, the sprinkling of truly unique individuals rounds out this group and brings balance. I will truly miss them."
These current eighth-graders will have a big impact on Concord academically and sport-wise. The high school will be a big step but Concord knows they will prevail. Good luck to the class of 2026 as they start the next chapter of their lives.
Leave a Comment
About the Contributor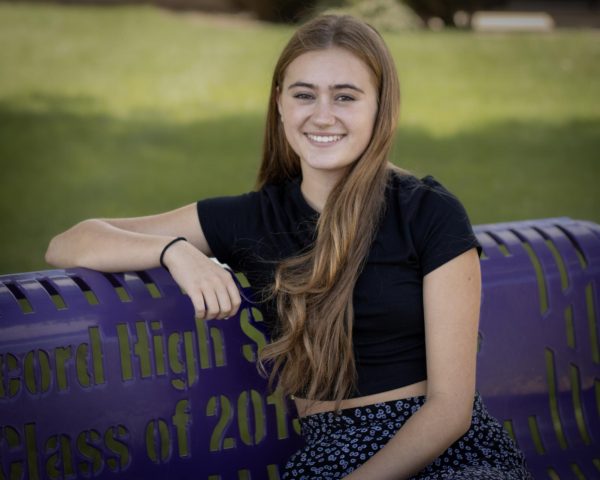 Rylee Sinden, Editor/Staff Writer
My name is Rylee Sinden, and I am a Senior here at Concord High School. In my free time, I love playing volleyball, gardening, and shopping. After high...