Concord Educational Foundation rewards $19,000 in scholarships
Applying for college can be stressful, especially when it comes time to figure out how to pay for it. Thankfully there are scholarships that can remove some of the stress of this process. The Concord Educational Foundation (CEF) is a scholarship and grant foundation that not only has scholarships available for students but also aids teachers in providing for their classrooms and financing fun activities for elementary students. CEF is run by a board of volunteer directors who manage the scholarships. The foundation has been awarding scholarships since its formation. The graduating class of 2023 had a total of ten students awarded scholarships offered through the foundation, and the total amount of money awarded to those students was a collective total of $19,000 dollars. 
This committed community organization started with a donation from Sarah B. Buskirk. Mrs.Buskirk gifted half her trust to Concord Community Schools after her passing in memory of her late husband Ronald aka "Buck" and her son James. In 2005 the Buskirk funds were transferred to the newly formed foundation, which operated independently from Concord schools.   This year a total of $10,000 was awarded to six deserving seniors: Autumn Cornell, Hannah Jordan, Madison Coburn, Linda Hernandez, Layla Hellard, and Aubrey Peterson.  Four additional generous scholarships were added in addition to the Buskirk scholarship that have been awarded through the years. 
The Keefer scholarship, worth $1,000, is awarded by Dr. and Mrs. Keefer who celebrate students who study in fields related to medicine. As long as they continue study in a medical field, the awarded applicant can apply for renewal. The 2023 recipient is Central Michigan University bound Aubrey Peterson who will be studying nursing.   
The Klett scholarship was created by Bruce and Pat Klett in wishing to support Concord graduates' ability to fund their college educations. This scholarship is awarded annually on a non-renewable basis.  This year's award winners, Abby Lincoln, Caylin Bell, Alonzo Hopkins, and Isaac Waldron shared a total of $3,000 towards their post-secondary expenses. 
The newest member of the scholarship collection is the Margaret and Lyle Cunningham Memorial Scholarships. These scholarships were created in memory of these two high school sweethearts who married shortly after graduating from Albion High School. Scholarship A is for students who will pursue an associate's degree or earn certification in a field.  This year there was not an applicant for this scholarship.  Scholarship B is for students pursuing a Bachelor's degree, and Madison Coburn gratefully received this $5000 award. 
The Coach Steve Laske Wrestling scholarship is traditionally awarded to a senior wrestler or team assistant.  This year there was not a senior on the wrestling team, but the Concord Educational Foundation strongly encourages future wrestlers to apply.
Constance Britner, the foundation's board president, is also a retired English teacher from Concord High School.  She has volunteered with the foundation for years. Mrs.Britner says, "Since Concord Educational Foundation has an important role to play in the lives of graduating students, CEF's critical function is to manage donated funds to award as many scholarships as possible to as many students as possible." She is one of the members who reads through the submitted applications and helps choose who gets awarded the scholarships. 
The Foundation not only awards these scholarships but also provides classroom grants that are operated from donations. These grants allow district classrooms to develop activities that support and enrich learning.  In the past, activities such as visits by popular authors, Robotic and Lego teams, enhanced reading and writing development, and the purchase of innovative technology have supported several classrooms. As of the moment, donations can be made to the foundation directly to the Concord district office. In the future, the foundation does plan to make online donations possible through their website, and they are always encouraging additional community involvement. 
The Concord Educational Foundation supports students in our community through these generous awards. It's encouraged that students apply for these scholarships through Mrs.Otto, who shares,  "I have a huge amount of appreciation for the families who have taken their resources and used them to invest in the education of our students and for the foundation who respects the careful process of choosing the appropriate candidate for the scholarships and whom they honor." Applying for these scholarships could reduce student debt for CHS graduates and their families.   Community members are strongly encouraged to consider how they too can be involved in this important foundation either through developing a memorial scholarship or learning more about the foundation's opportunities for leadership. 
Leave a Comment
About the Writer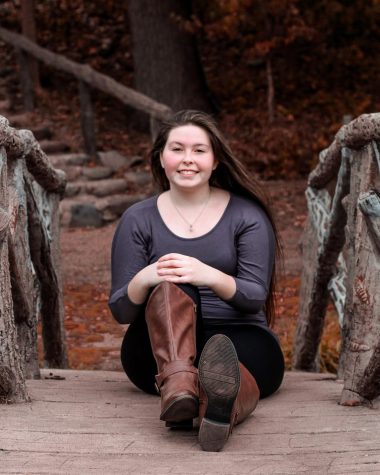 Caylin Bell, Staff Writer
My name is Caylin Bell. I am a Senior here at Concord High School ,and I'm a second-year Multi-Media student. In my free time, I enjoy reading, watching...