Concord welcomes a new teacher
A new and exciting teacher has joined our Concord team: Mr. Simmons. He is interesting, funny, and hardworking, which is why we are so honored for him to be our first staff spotlight of the year. 
He explains himself as random and spontaneous, which shows through the way he teaches in a positive way. He is also ambitious and explains that one thing on his bucket list is to walk on the Great Wall of China. "I love to go to other places and meet other cultures," Simmons says. 
Although Mr. Simmons doesn't have much free time between teaching and raising his child, his hobbies include playing drums, guitar, and video games on his PS 4. He explains that a fun fact about himself is that he loves to cook and watch food shows. In his free time, Simmons likes to "read a good book, watch a good show, and try not to burn a new recipe." His sense of humor is contagious. 
In high school, Mr. Simmons was involved in many extracurricular activities. These included track, wrestling, marching band, and the pep band as a percussionist. After high school, he attended University of Michigan and Norwich University. "I made it through college, got my master's degree, when I was younger made it through drum and bugle corps, and am now a father," are just some accomplishments that Mr. Simmons is proud of himself for. 
Although he is new to Concord, he isn't new to teaching. He has taught at Vandercook High School, Jackson College, and North Umberland High School. Mr. Simmons explains that Concord is unique because of the culture, a supportive community, and that everyone seems more in tune with one's education. He thanks three teachers for who he is today. Mr. Merlain, Mr. Karnarski, and Mr. Smith. "I started to fall behind in school, those three teachers helped me and wouldn't let me fail," Simmons explains. 
Drew Uncapher has Mr. Simmons during first hour. "His first-hour class is very enjoyable; he makes it very easy to learn first thing in the morning," Uncapher says. "He makes the class fun by having such an upbeat personality. I feel as if he kept the atmosphere the same as when Mr. Reiniche was still teaching." He has also introduced some new websites this year to his class. "Mr. Simmons introduced Blooket, which has made the class fun and competitive while practicing the topics we are learning in class," Uncapher says. Overall, "Mr. Simmons is a very nice person to have as a teacher. You can strike up a conversation with him on just about any topic and he will find a way to tie history into it." 
Sophomore Iyla Weeks has Mr. Simmons's first hour as well. "He is a very interesting person to talk to. I like his teaching style and keeps things interesting. he is constantly making sure we know what to do and if we have questions he gives a very in-depth answer that is super interesting to learn about. I can tell he is very kind-hearted and caring. I'm excited for the rest of the year with him," explains Iyla.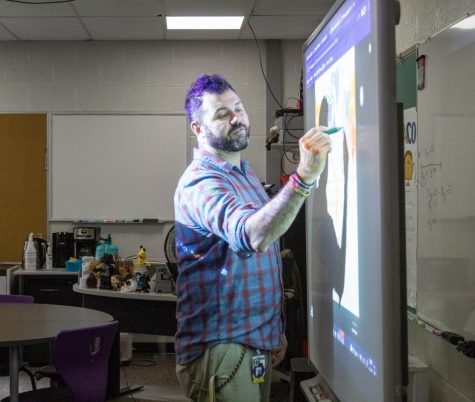 Our principal, Ms. Price explains her first impression of Mr. Simmons. "My first impression of Mr. Simmons was "unsuppressable energy." Price uses words like knowledgeable, passionate, energetic, and multi-talented to describe him. She also explains what he will be bringing to the Concord team. "His contribution to Concord will be his passion for history, his desire to present history in a new and energetic manner, and his deeply held conviction that students should be respected, encouraged, and developed to their full potential."
Math teacher Mr. Buck has a new classroom neighbor. He explains that "we are excited to have Mr. Simmons on the team! He brings a lot of energy and excitement to the classroom." Simmons knows how to keep his students engaged and working, "While he has big shoes to fill he brings a lot of enthusiasm, grit, and experience to the classroom," Buck explains. 
"I am excited to be part of the team here and I look forward to many great games, classes, and events in the future," Mr. Simmons explains. The feeling of many staff members and students is mutual. We are so excited to have Mr. Simmons on board this year and look forward to many great years in the future.