SENIOR SPOTLIGHT: Shianne Alejandro
Shianne Alejandro is described by Mrs. Sigman, who doubles as Shianne's cheer coach and teacher and with whom she has developed a strong bond over the course of the season, as a creative, hardworking, and diligent student. Her sister Savanna Alejandro describes her as funny, very honest, and creative. The Concord Chronicle is very happy to have her as this week's senior spotlight. 
Alejandro started attending Concord in the fourth grade, and she quickly became a part of the community. As she reflects on graduating, she will miss all of her friends and teachers the most. She shares that Senior Art with Mr. Couling is her favorite class because she loves his classes, and he always knows how to help and pushes her to be great. She is very passionate about drawing and being artistic.
Mr. Couling explains that, "Shianne's artwork stands out to me because she has an attention to detail, her work really pops out. She captures everything that's in there, plus her work just looks really good. That's what I appreciate about her; she really follows through with her work. Students when they come in as freshmen, they're not that confident. I've watched her grow and develop artistic skills that have just got much better. She has always been a pleasant person to be around, and just to see her take on more challenging things artistic wise and just overcoming them and doing them very well. She has a number of pieces in the art show because of the quality work she does."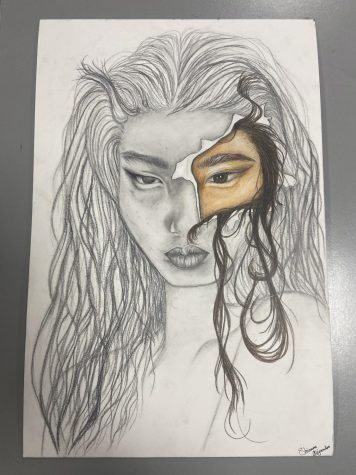 Alejandro loves competitive cheer and has been participating in it for four years on the varsity team and for two years in middle school. She explains that,  "Cheer is my favorite sport because the bond and what we go through to put it all on the mat, working hard as a team to try and accomplish what we want; cheer has taught me that you can always do better and to push through when times get hard." She has received a few awards throughout her high school years like the coaches award her sophomore and junior year. She was awarded All Conference this year, as well as Most Valuable Player.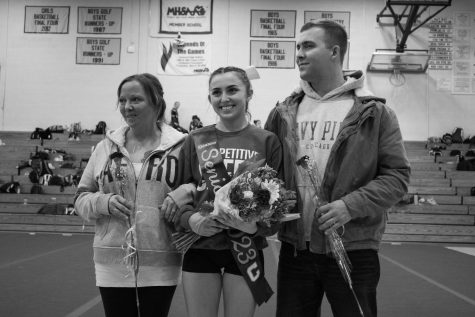 Shianne wants to attend Spring Arbor University to continue her competitive cheerleading career. Mrs.Sigman says, "She has similar qualities as an athlete and as a student as well. She would always do her best and try to be better, try to improve her skills, and I see that quality in the classrooms as well." Sigman would like to give Shianne some advice "Don't let life kick you down, always pick yourself back up, when times are good they are good and revel in that."
Shianne explains what high school has taught her: "Definitely pay attention, and don't slack off because it's hard to make it up." Alejandro started running cross country and track in 6th grade until her sophomore year. She also got All-State that year for the 4 by 8. "My favorite part is running around in the woods helps me clear my head a lot and with track, I love the competition and Jur the coach." She will not be doing track her senior year because she wants to focus more on her job.
Savanna, her sister, says what it's like having her on the team: "She's really encouraging, the whole team believes in her, she makes stuff fun and entertaining, and everyone looks at her like the leader and encourager." Being a year and a half apart and Savanna sees her sister in the future, "starting a business, being productive, being a tattoo artist." Her favorite memory with Shianne is seeing a person drive on the sidewalk in Jackson.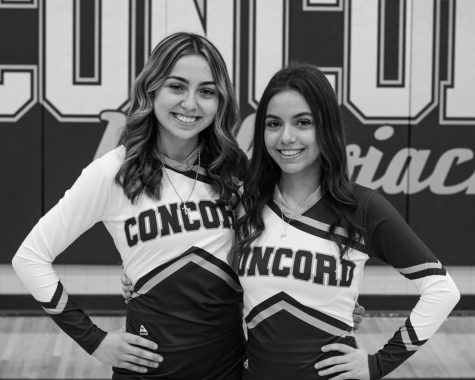 Her future plans are to look into being an apprentice or go further in her artwork. Shianne does a lot in her free time, but she mostly likes hanging out with friends, going to the gym, and cuddling with her cat "Sweetie". 
As a staff writer, it is a special honor to write about your best friend. I am very thankful to Shianne for always being there and pushing me to be who I am. She is always very helpful and will help anyone out if they need it, yet she will also say what's on her mind and is the most understanding person I know. I have so many favorite memories of us when we were younger, all the times we had on the trampoline just bouncing around, or the water balloons, or the games we made up. I believe that Shianne will really go for what she wants in life. She is unstoppable. She has really impacted me to be who I am today and just helped me live my life to the fullest.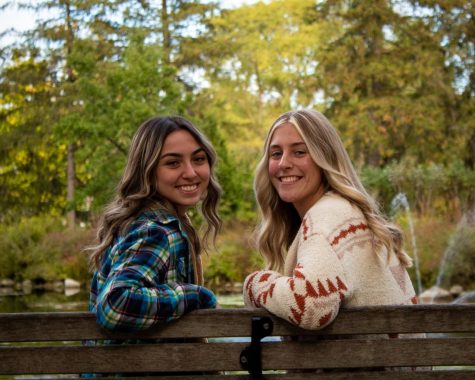 Shianne, we wish you the best as you continue on a bright journey full of talent, creativity, and opportunity!