It's not D1 or die
Alum Vincent Giuliano shares college track experience.
Vincent Giuliano, an alumnus of Concord schools, agreed to sit down with the Chronicle and give us insight into his experiences in college and during his track career. Giuliano succeeds academically and athletically at Olivet Nazarene University, located in in the quaint village of Bourbonnais, Illinois. We are happy to have him as our alumni spotlight. 
Since he was twelve years old, Vincent has been running track. He has worked really hard to improve as an athlete and lower his times. He competes in the 60, 100, 200, and 400-meter dashes. Not only has he run these events, but he also set college-level records while running them. This year, during the indoor season, he broke the records for the 60, 200, and 400-meter dashes. Vincent explains, "I used the tools Concord gave during the summer, lifting weights, and running on the track. All my teammates on this team were lifting with me, and Jur was also helping me become better." 
Mr. Jurasek acts as Giuliano's motivational figure. Giuliano emphasizes that "He set me on the right path. He gave me the tools I needed. While I was still a student at Jackson Christian, he talked to me about attending this school. Jur believed in me when not many others did and when many others said that I wouldn't perform as well at Concord because I was only a freshman who ran well. He accompanied me on the ride and stood up for me when few others did."
Coach Jurasek shares the same admiration for Giuliano. He describes Vincent as passionate, hardworking, fun-loving, and successful. "I have had many great memories with Vincent," he continues."One of my favorite memories is Vincent transitioning from Jackson Christian at the end of his freshman year. There are some slight differences in how they and we run things here. He wasn't really a quarter-miler when he initially arrived in Concord. Afterward, he developed into one of Concord's all-time top quarter-mile runners. Then, he won several state championships in the mile relay after winning the state championship in the 200-meter dash." Jur goes on, "It's challenging to compete at the collegiate level; only 2 or 3 students ever get to begin there. That speaks a lot about Vincent, who's currently in his junior year and breaking their school records. Vincent stands out because of his passion and his love for the sport.
While there are many aspects of Concord that Vincent enjoyed over the years, his favorite was the people. Giuliano comments," The people were the best thing about Concord, all my friends, and coaches. It's the people that made it great. It's not the school itself; you don't go,' aww I just love the school.' It's the people that go to the school and the coaches that train you to become not just better athletes but better people in general." 
Coach Clark, who coached Giuliano since his sophomore year of high school, has a lot to say about this college athlete: "We train short-distance running a lot during football, and it helps with your general mental toughness when you come to track." "Vincent's speed on the football field is one of Clark's favorite memories of him. At the time, although Giuliano had only been playing for a few years, he had already set the school record for most rushing yards in a single game. When Vincent first arrived from Jackson Christian, Concord was already a close-knit group playing for a while. He showed me how to incorporate new players and make them feel more like a part of the team. By showing up and having the strong work ethic that he has, he contributed to the success of the team and made us better as a whole," Clark says.
Although high school friends feel important to us while we are here at CHS,  the friendships made in college can also be impactful. Giuliano continues, "You make a lot of friends in college; the millions of people you meet there will stick by your side for most of your life. You won't really run into the friends you make in high school after graduation. I don't talk with anyone from high school, the people I meet in college have known me since my freshman year. We already have plans in place for the future, and I am confident that we will remain friends for an incredibly long time even after college."
Successful athletes realize that time management is crucial not only in high school but also in college. Vincent explains, "Time management is everything in being a college athlete. You have to be able to complete your work at a fixed time, arrive at practice at a set time, and occasionally you may have to text your coach and ask if it's okay to come into practice at a set time rather than this time because I have a class or a lab. Time management and knowing how to use your time effectively are ultimately what matters most in college."
The track programs in colleges and high schools vary significantly. Vincent comments, "College track is very different from high school track since you have more freedom to choose in high school. You are also paid to run in college. Nevertheless, you must work around your schedule because you must practice at a specific time that may change. In high school, five days a week are dedicated to one specific time slot and your scheduled classes. In college, you might have one class one day or two classes another, but you must plan your schedule around certain responsibilities. If you miss a practice, your scholarship will be taken away."
Athletes face pressure from a lot of people in addition to the fact that the tracks for high school and college are different. According to Guilano, "You're good if you made it to the college level, but when you reach a certain level, there's a lot of pressure on college athletes. When I went to nationals last year, there wasn't nearly as much pressure on me as there was this year. This year, I was ranked third in the country going into the nationals. As a result, I felt a lot of pressure from several people to perform well. Keep in mind that this sport doesn't define who you are and that this is a period in your life when you should enjoy yourself. Have fun and don't care about what other people think."
Although there are many aspects of the track team that could be stressful for athletes or that you should focus on before you begin competing at the collegiate level, such as time management, there are also enjoyable aspects. Vincent tells us that the center of his favorite experiences is "the atmosphere and the coaching…of the ONU track team. Coach Johnson, in particular, who is my coach, is like a father figure to us; he wants to get to know us, invests in us, and wants to make us better people and athletes. He considers us not just as athletes but as people as well. The members of the track team are also great; you might have a fast team without any chemistry, but our team chemistry is great."
Vincent offers some advice to Concord's students and track athletes, reinforcing, "Enjoy it even when you get into college enjoy it but right now in high school this is where you're going to mold who you are as an athlete and a student. Keep your focus while participating in sports and the classroom as well. Your high school grades are most important if you're wanting to get into a good college, you must pay attention in class, remain focused and be diligent. When it comes to college decisions, understand that it's not D1 or die, but rather what college is most comfortable for you. The college you choose could be a junior college, NAIA, D1, D2, or even D3. It all comes down to not feeling like less than a human if you go to a D3 or NAIA college. The talent is still going to be at any college level, and you're still going to put in the work. You can coach to get faster, but you can't coach effort no matter what college you go to."
We would like to thank Vincent for giving us the time to interview him and share his experiences from college, track, inspirations, and advice he would give to high school runners and students at Concord High School whether it's the best parts of ONU's track team, the pressure felt when running in college, or the differences between high school and college track. We wish you the best of luck with your upcoming outdoor track season!
Leave a Comment
About the Contributor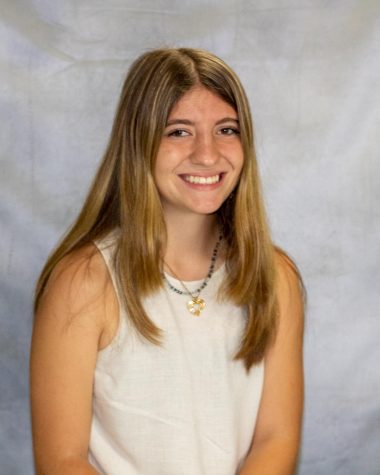 Riley Adams, Staff Writer
Hi! I'm Riley Adams. I'm a second-year staff writer for the Chronicle. I participate in cross country, track, basketball, and softball. I enjoy hanging...