Female wrestler earns varsity letter
Jordyan Metcalf continues her wrestling career.
"Be sure you put your feet in the right place, then stand firm," -Abraham Lincoln. This is just what freshman Jordyan Metcalf is doing. Metcalf has entered her first year of high school wrestling. Wrestling is her passion, and she just wants other girls to love it like she does.
Metcalf earned the chance to participate in her first girl's tournament and placed second overall. This season, Metcalf has been working super hard to become the first female wrestler to earn her varsity letter here at Concord. Not only has she done this, but she is also the first female in Concord history to earn her varsity letter in wrestling.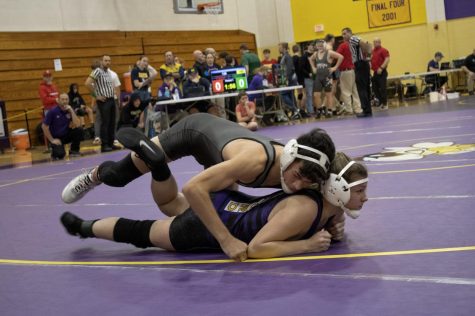 Being in a male-dominated sport is challenging for Metcalf, but she is always up for the challenge. She explains that "During guys' tournaments, I go up against guys who are all muscle, so it's hard for me to be a girl who doesn't have as much muscle to go up against them. They overwork me the whole time." 
Wrestling has always been a part of Jordyan's life, and she doesn't see what her life would be like without it. She has been a part of the wrestling program for 6 years now and started in 2nd grade. The inspiration to join this sport has always been there for Metcalf. The Grover Memorial wrestling tournament, hosted in Concord every year, exists because of her cousins, the Grovers. "When I was little, I heard about their story and wanted to carry on their legacy," she explains. Her two brothers have also been involved in wrestling. 
Our school sports need changing, and Jordyan is trying to do just that. She says,  "I hope to create an all-girls team here at Concord in the future. I want us to be able to travel and go to girls' tournaments."
Metcalf's friend, Marissa Mandrelle says, "It is amazing that she is doing wrestling because not many girls want to be wrestling boys and it takes a lot of toughness and strength."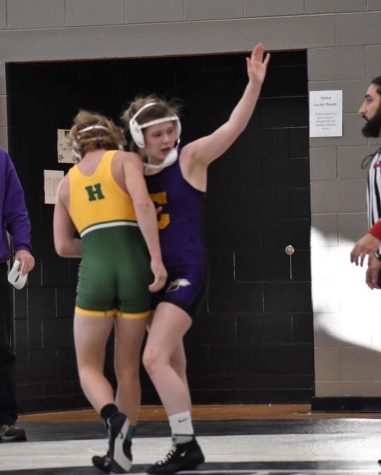 Metcalf's teammate Collin Thompson explains what it's like being on the same team as Jordyan: "It's interesting, wrestling a girl. It's a lot different; they're not as strong obviously, but she has really great technique. When she wrestles boys. she doesn't always win, but she went to a girls' tournament and got second. I think she did really good." Thompson describes Jordyan as "a really goofy person; she can be pretty sassy sometimes." Thompson explains that having Jordyan on the team "adds diversity." He concludes by saying this: "She has regionals coming up, and I think she'll do pretty good. She's growing as a person still and it will be interesting to see how she turns out."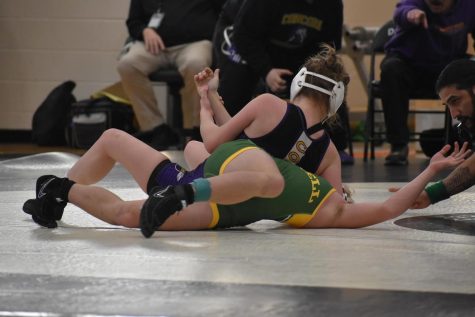 If you are interested in wrestling, Metcalf explains that she would tell you this: "We get big opportunities, especially in college. Right now, they are handing out girls' scholarships like candy; so it's just like a free ride anywhere. It is also such a great learning experience and has really shaped me as a person; I'm not as cocky anymore. I don't think I'm better than everyone else because in reality, I'm not." 
We are so proud of Jordyan for breaking social norms and representing girls. We wish her good luck at regionals this weekend!
*Retraction: It has been brought to our attention that we were incorrect in printing that Jordyan was the first female wrestler at CHS.  Ms. Sinden's article has been adjusted to reflect that.   We value the loyalty of our readers and strive to give an accurate picture of life here at Concord High School.   We encourage our readers to leave comments disputing information directly on our articles so that we can make adjustments accordingly.