Teacher Spotlight: Mrs. Fiero
This week our teacher spotlight shines upon our Harry Potter loving teacher Mrs.Fiero! She teaches Biology, Anatomy & Physiology, and Human Body Systems. She is the freshman class adviser and mother of two adorable girls: Kherington and Logan. Fiero is known for her creativity with labs including dissections of: sea urchins, frogs, and fetal pigs. Fiero also is famous around the school for turning her students' mouths blue with her fun blue cupcake digestion experiment.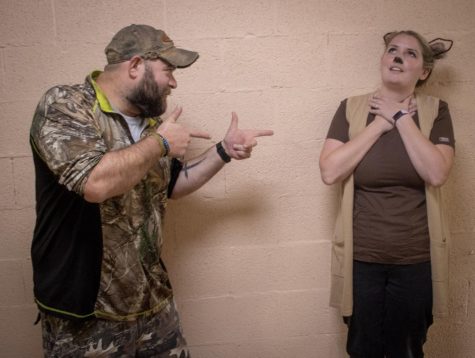 Before coming to Concord in 2019, she graduated from Fenton High School and Spring Arbor University with a Biology degree in 2015. She previously worked as an infectious disease scientist, car dealer, substitute teacher, zoo worker, and in the vet field for a long time.
Senior Madison Coburn currently has Mrs.Fiero for Anatomy and Physiology. Coburn is enjoying the interesting material and content of the class and would like to say a couple of words, "I really like how she treats us like adults and not like children and the respect goes both ways." 
Senior Layla Hellard has Mrs.Fiero and loves her as a teacher here at Concord, she says, "Well I had her when it was her first year teaching at Concord and I have had her every year since she loves what she teaches and you can tell. She connects with students on a deeper level. I think Concord is very fortunate to have her as a teacher. She is my favorite teacher."
Math teacher Mr.Buck is a close friend of Fiero's and says, "She is very kind, very genuine and she does what's best for her students even though she is very hard on them. I enjoy her as an individual." Buck also has a favorite memory with her.  He reminisces: "We did the Polar Plunge three years ago today, so we went to Clark Lake and jumped into the water where they cut out a big block of ice. It was actually pretty cool; it was cold, but it was cool".
Mrs.Fiero's favorite part about teaching at Concord is, "That I get to wear jeans, and I have a lot of freedom with what I teach."  In her free time she says, "I like to take my kids to the playground and spend time with them, visit family or read a book". She says her dream vacation would be, "I want to visit the whole world at some point. I have been to South America and am trying to hit all of the continents. I really want to visit Ireland and Sweden where most of my family lives."
We are happy to have Mrs.Fiero here as a teacher and hope that she can make her dream vacation happen.