What happened to reading paperbacks?
Technology is taking over our district's learning. What once was our library is now known as our media center. The library used to be used quite frequently, but now that students can research and read on their computers, it's not used as much. Students mostly only like to go to the media center for the more comfortable seating and to work in a quieter environment, but what about the untouched books in the library? 
The media center has been around for almost four years now, but as time goes on the students browsing books are decreasing. Having the opportunity for the school to use their discount to provide and purchase two brand new books per genre that are directed towards teenagers is phenomenal; however, most books still tend to go untouched.  Some of these books can be seen in the showcase outside of the media center that are constantly being rotated in an attempt to catch students' eyes.
Reading can be a chore for students who don't find interest in reading especially with technology being more prevalent. Although, some students are required to complete choice reading projects in grades 9-12. English teacher Mrs. Couling describes what choice reading can look like: "Choice reading is a novel project I give in all of my English courses. Students get to choose a book they enjoy reading and create a project to show me they have read it. They must choose one book, but they should choose two more books for more credit and they can aspire to read a third book for extra credit. I do send them to the media center for books, but I also allow them to use books from my classroom library that I work hard to add to regularly, or they can bring books from home."
For choice reading it really differs what books are most checked out, but this year it's quite popular to see students actually reading two books in particular-A Good Girl's Guide to Murder and All American Boys.
Students who have taken one of Mrs. Coulings English courses may recognize audiobooks being used. Audiobooks are books students can listen to on their computers. E-readers can also be helpful for students who suffer from dyslexia and other reading issues. But that defeats the traditional ways of reading because more students read things digitally than in paper form. It's not a terrible thing, but it's the main cause of books being untouched.  Mrs. Couling adds that, "everyone can be a reader if they find the right book. I take recommendations from people in all areas of my life to add books to my personal library. I set high reading goals for myself so that I can help students find books they enjoy. Also, in my English 11 class, students have a novel assigned for one unit, but they get to choose from five different ones. I think choice is really important for students to remember a time when they used to love reading."
What's quite arguable in both forms, there are rarely any regulars'stopping in the library to check out books.
Working in the media center, Mrs. Clark argues and agrees, "There are not really any particular students checking out books compared to past years.  The students come in to work on their Chromebooks, which is expected now with our advanced modern technology."
If you are a student, please ask permission to stop in the media center and browse the outstanding book selection because it is open to any student. Whether you're completing a "Choice Reading Project" for your English class or just enjoying a great sci-fi novel, you may pick up reading as an unknown interest with the several books that fit your personal genre. 
View Comments (1)
About the Contributor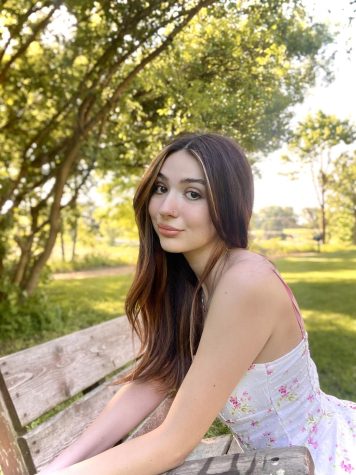 Savanna Gamet, Staff Writer
Hello! My name is Savanna Gamet.
I am a senior here at Concord High School.
This is my second year writing for the Chronicle.
When considering what...