CHS Food Survey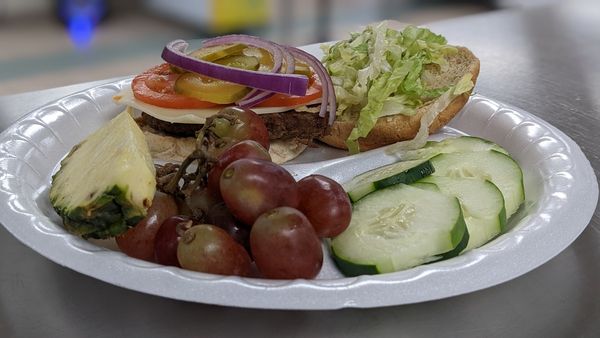 Food is an essential part of our everyday lives. Eating a balanced meal throughout the day has many benefits to our physical and mental health, which is especially important as our bodies continue to develop. That is the goal of the CHS Food Service director, Alan Breneman. Alongside Mr. Breneman are Ms. Turner and Mrs. Mikovitz. Beginning on October 25, the Food Service curated a focus group that met every Tuesday in order to improve and address issues regarding the quality, variety, and allergens that affect our food, along with some options being added to our menu. (Other participants have been asked to remain anonymous.)
Day #1: The process was simple. Grab lunch (if you wanted to), and meet up in Mr. Lehman's room during our lunch break. In the first meeting, Mr. Breneman and Ms. Turner both introduced themselves and explained what we were doing here, what the goal was, and what we can do as a group to make as many positive changes as possible. Samples of potentially new items were placed in front of us to try to see if this would be something that we would eat if it were to be added to the menu, and then we'd give feedback on what we thought. For those that grabbed a lunch, Mr. Breneman and Ms. Turner would ask essential questions regarding a particular food or a group of foods that share similar issues or concerns. One issue that was discussed as a whole was the quality of specific foods. I had mentioned that the bread on some sandwiches, (chicken, hamburger, etc.) would become either too hard or would become soggy, to which the other participants agreed. Mr. Breneman explained that sometimes while the sandwiches sit on the warming plate over time, some sandwiches have either a lack of or excess moisture that causes them to harden or become soggy. Both Ms. Turner and Mr. Breneman explained if such an issue was to occur, that students should bring it back up front to get the issue resolved free of charge. Mr. Breneman also wanted to inform everyone that if there is any issue with anything that they have from lunch to inform the cafeteria staff. At the end of the meeting, we tried samples of new PRIME drinks and gave our feedback as to whether or not this should be included as part of an à la carte item. We all voted yes; and in return, PRIME drinks eventually were added later on.
Day #2: During the second day of the meeting, we discussed various different drink options, especially some popular beverages that have made a return. Lattes have been added and been shown to be a relatively popular drink during breakfast and lunch. Strawberry milk is making a return after very popular demand. Mr. Breneman got in contact with Prairie Farms and placed orders, so be on the lookout for it before it's gone again. Red and blue slushie machines can also be found in the corner of the cafeteria, which has also been a really popular choice. In addition to the lattes and the PRIME drinks being added to the list of beverages available, those with lactose intolerance are in the works to offer alternative choices. There is a sheet students can fill in in the office if they have lactose intolerance, or they can ask any of the cafeteria staff to not include cheese or anything unwanted on their food. While the topic of cheese was brought up, we discussed the quality of the cheese on pizza. Oftentimes, the cheese would either slide off the crust, or the consistency of the cheese would be off. Mr. Breneman stated that if any issue occurs with food, bring it up front to one of the cafeteria staff, and a replacement or exchange can be made. He also said that they would work towards improving the quality of the cheese, as well as implementing new toppings such as ham. The sliced cheese found on both the subs and cheeseburgers will also be changed to improve quality. As far as fruit and vegetable choices, we recommended fruit cups as an alternative choice, which has been recently added.
Day #3: One major change that has been made is now the specialty menu items will be announced in the morning, so now students will know what they are having before heading to lunch. Another change that can be noticed is the flavor station. For whatever your seasoning needs, the new flavor station will be in the middle of the cafeteria, complete with an array of multiple seasonings such as cayenne pepper, red peppers, bbq, everything bagel, and more! Speaking of bagels, plain bagels will now be a breakfast option, with avocado spread as a topping. Lastly, a new item that will be hitting the menu will be barbeque chicken-loaded fries, which has received lots of positive feedback. Be on the lookout the next time it's around in case you didn't try it the first time around.
During the final meeting, Ms. Mikovitz joined the group in place of Mr. Breneman, who was unable to attend the final meeting. We discussed any final thoughts or suggestions we had. We were all thanked for our participation in the meetings, and we thanked the food service members for everything that they do for us. Mr. Breneman wanted to share some information regarding any lunch or breakfast issues. He shared with me, "If anyone ever has any issues with any product that they get from the lunch line, bring it up to me or any of the chefs, and they will replace or exchange whatever it is you got. Our goal here is to improve the food and to provide the best experience for you guys [the school], and to make sure that you're liking what you're eating." Mr. Breneman also explained that some issues that the school faces are high demand for certain products, shortages, shipping issues,  and that foods have to meet specific criteria and must be approved by the FDA. Specific amounts of nutrients, sugar, vitamins, and more is necessary in order to be approved. More focus groups will take place in the future, with the same goal in mind. Improving our food quality and variety. Consider taking up this opportunity to have your voice be heard and to make a difference for both you and your classmates!