Waldron DAR recipient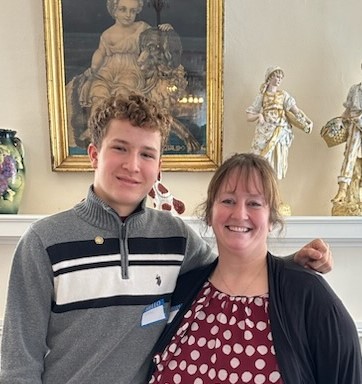 Our amazing senior student Issac Waldron participated in the DAR gathering last month on November 20th at the Paddock Hubbard House. He had the opportunity to learn about what being a part of the group is like and the great history. Afterward, he joined them formally with refreshments from Silver Service Tea and a tour of the historic home and gardens.
Being a DAR citizen takes a lot of character traits which can include being dependable, trustworthy, and patriotic. Teachers will nominate one student from the graduating class that may have these qualities.
Mrs. Otto explains, "Concord is made up of some of the most amazing students in the world; it is a challenging task for the staff to identify just one student to represent the DAR Citizen.  Having known Isaac since he was in the sixth grade, with all of its challenges in choosing, I know that Isaac represents the core values of the DAR Citizen award."
Isaac was chosen and invited last month and was given two hours to write an essay about a random question on terms of citizenship and history. By writing this essay, he is open to many more scholarship opportunities if his essay is chosen at a state or national level.
Waldron shares his experience, ¨ It was interesting. I was told what being a DAR good citizen meant to all of them. I got to feel a part of American history because all of them were able to trace back their heritage to a soldier or someone that was a part of the United States troops.¨
Each DAR citizen went around in a circle and talked about how each recipient had a history with the war. They also said the pledge of allegiance and ended the night leaving great knowledge for everyone there.
Congratulations Issac for being this year's DAR recipient.