Food Truck Rally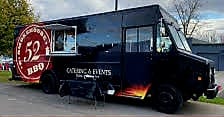 Food trucks. The only time they are ever truly seen is when the fair comes to town or in big cities during community events. Well, the sophomore class is switching up the fundraising game by bringing quality and variety to our little town of Concord today from 3-7 pm.  The sophomore class will raise money to host next year's prom, which will help them tremendously in the coming year. 
For this food truck fundraiser, there will be eleven trucks in total, guaranteeing something for every palate! Tickets can be purchased on an app called FoodEaze. The cost is $10 per car and $5 per walk up or $7 per car and $3 per walk up if pre purchased on the app, which covers admission and parking. The food trucks that will be at the event are: On the Roll, Nom Nom Ninja (co-sponsor), Tiki Sam, Motor City Sweet Treats, Kona Ice, Big Cheezy Grill, D&W street eatery, Baby Bear Burger, Cravin' Rae's, Smokehouse 52, Junkyard Dog. A few of the trucks even have vegetarian or gluten free options. 
There will also be a 50/50 raffle along with other raffle prizes provided by Tractor Supply Co. Jackson West and Scentsy by Tasha Thurman. Music will be played by sophomore parent and CHS announcer Chriss Adams through the football sound system. They will also be hosting a vote for favorite food truck. The truck that wins gets a trophy, so make sure to vote. 
Adams and the sophomore class will also be hosting 3 more events on 5/21, 6/18, and 8/20 the location of these events are to be determined so make sure to stay updated on their Facebook.  The sun is shining, so get out there, invite some friends, and support the sophomore class.