Swinging into a new softball season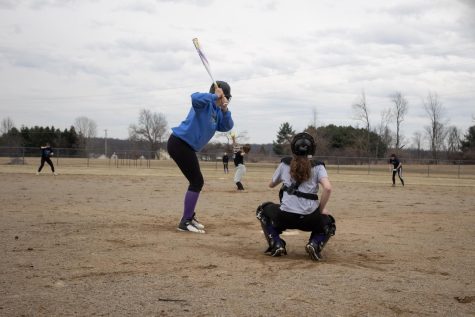 Winter's snow has melted, the fields are thawing out, and softball practices have begun for the 2022 season. This new season required a new softball coach. That coach is the one and only Jesse Buck. Coach Buck looks forward to this softball season with ascending hopes that the girls will pull off a wonderful season. Coach is hoping to win most of the games but is more focused on the girls and himself having fun. Coach Jesse Buck  also states, "I am excited to recreate the softball program, for the girls to have fun, and looking forward to running my own program." 
Coach Buck is not the only one who is excited about this year's softball season. Senior Jayden Householder is also eager for this season to start. Householder stated, "I just want everyone to have fun and work hard."  Luckily, Coach Buck has the same thing in mind for the girls this season.
Junior Faith Moore is also looking forward to this softball season with the expectancy that the team will do wonderful things this year. Moore believes that "good things come to those who work hard for it, and I believe we're gonna get far if we continue to put in the effort that we are." The team is making amazing progress as they gear up for this year's season of ball. 
Some of the returning players to watch out for from last year's season are senior Karlee Gamet (pitcher), sophomore Riley Adams (pitcher), and sophomore Madisyn Barrett (pitcher).  We can't forget to watch for the new players for this season who are junior Faith Moore, who brings in a powerful swing when she steps up to bat, and freshman Hannah Stimer (catcher) who catches the strikes from the strong force of the pitchers. 
With starting a new season, the old rivals Springport and Homer will be two intense competitions. These will be two  games all the Yellowjacket fans will rush out to see. As they're swiftly approaching the first game of the season, the girls are working hard to make sure they are in tip-top shape to start off with a bang. Make sure to mark your calendar for April 6th at 4:00 p.m. to come and watch the Lady Jackets go head to head with East Jackson. For further updates on the softball, schedule makes sure to check out the Concord Athletics page.