Staff Spotlight: Mrs. Sigman
Our health and fitness teacher Mrs. Sigman is in her second year of inspiring students to live their best lives both mentally and physically.  We sat down with this energetic and dynamic teacher to learn a little more about her. 
She grew up in Mason, Michigan, which is 40 minutes from Concord and 20 minutes from Lansing. She attended Mason Public Schools from kindergarten through 12th grade, graduating from Mason High School. At the age of 14, she joined cheer. At football games, she loved cheering on the sidelines, and she continues to have a passion for cheering. She started cheering during the competitive season during her freshman year in high school. She competed on JV as a Freshman and then Varsity as a Sophomore. She was a 3-year Varsity athlete in Competitive Cheerleading. She wanted to be a cheer coach because she was a cheerleader back in high school. After high school, she coached cheer for a few years before she became a teacher and coach at Concord.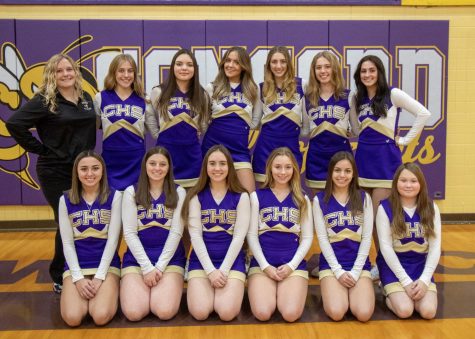 She graduated from Central Michigan University with two bachelor of science degrees: her first degree is a bachelor of science in French and her second degree is a bachelor of science in secondary education with a concentration in Health and Physical Education. Sigman also loves to travel and study abroad; she even lived in France for six months when she was in college.
Besides being a teacher and a coach, she can do it all: kayaking, diamond puzzles, and anything else creative. She enjoys doing these activities along with her daughter, who has inherited her mom's creative genes. They play together with kinetic sand, Play-Doh, and when her daughter is older she would like to do diamond paintings. 
Everybody has strengths, and for a teacher, Mrs. Sigman says, "You need to have a passion for it, you will need thick skin for the students who don't like you, and you need to connect with them as well as having a relationship and respecting people."  As for coaching, Mrs. Sigman's strengths are to "roll with the punches, because things happen." Mrs. Sigman believes that building relationships with students can make them put in more effort and try harder in their work.
As a teacher, Mrs. Sigman wanted to make a difference for students, and she prioritizes teaching them about skills that can save their lives and help them be healthier. Mrs. Sigman wants to help people.
Senior student Rylee Weeks said that she "really loves how Mrs. Sigman puts her students first always. She always wants to make sure that all of her students are having a good day and getting the help that they need." Rylee mentions that she really enjoys the way Sigman teaches and wants her students to succeed in every way possible.
Hadley Kettwich also mentioned that personality-wise "Mrs. Sigman is so kind, and she always wants the best for everyone. She is very funny and loves to laugh with us."
Hadley likes "that [Sigman] is down to help with any projects we come up with to raise money for the senior class. I also like that when she taught us in the class we did a lot of hands-on stuff." Hadley mentions how she loves "the way she teaches. When I took Foundations of Mindfulness and flexibility with her, she made sure that we were all participating in the activities that she planned for us." What Hadley loves about Mrs. Sigman is that "no matter how bad her day has been, Mrs. Sigman always has a bubbly and caring personality."
Our staff members at CHS are also grateful for Sigman's influence on a daily basis.  Mrs. Reed says, "Mrs. Sigman is dedicated to teaching students how to be healthy and mindful."  
While Mrs. Osterhout adds that "Mrs. Sigman is an excellent addition to our staff and to our school. She really cares about her students and how heath and physical fitness will fit into their future. Everything she does, she does with the best interest of her students at heart. We are so lucky to have her!"