Concord vs. Vandercook
Concord claims another win.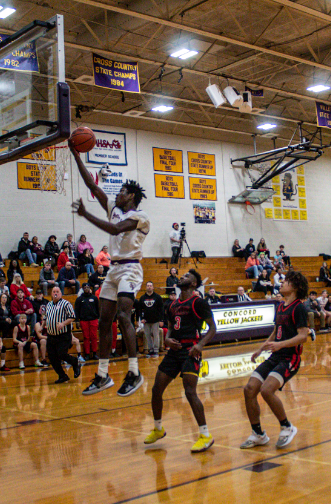 The varsity boys defeated Vandercook last night. Both teams were undefeated in their conference. The final score was 66-42. Sophomore Mekhi Wingfield was the top scorer of the night, leading the team with 17 points. Graeley Sprague contributed 16 points. Anthony Evans added 13 points, Isaac Waldron scored 9 points, and Omarion Culliver added 6 points for the team.
Senior Omarion Culliver explains what he expects districts to look like. "I think districts teams will look different because everyone is there is playing for a title, so every time we step on the court we have to be focused."
Senior Jonathan Mikovits says that "the reason we won last night was our defense. We haven't had our defensive vigor for several games and we found it again last night." When asked, "Are you happy with the way the season has gone so far?" Mikovits responded that "we've done well so far, but we lost games that we shouldn't have. In that sense, we have underachieved in a way. Of course, winning a Big 8 championship is big, but it is mainly prep for the state tournament. I think districts will be a battle between familiar faces. If we make it past Leslie, we will likely be meeting Homer in the district final. It is achievable for us to win districts. If we do what we do, I don't think any of the other teams in our district will be able to stop us." 
Mekhi Wingfield, the top scorer for the team last night, says the reason they won was that"[they] played in transitions, got stops, and guarded as a team."
Adair Artis played for our varsity team last night. He says that they "were very determined" last night, and that's why they won. 
Coach Gill explains what he's expecting from districts. "Leslie is going to be a tough opponent. We are going into the game respecting our opponent but expecting to win. We need to Play Hard Play Smart and Play Together and good things will happen. We have had success this year by playing pressure team Defense, and that is want we want to hang our hat on in the state tournament."  Come support the Boys as they start districts on Wednesday, March 9th. They are competing against Leslie at Leslie high school. The game starts at 7:00 pm.