Boys basketball preview
The Concord Yellowjackets have an impressive team of basketball players ready to take on the upcoming season. To get an insight into how the coaches and the players are preparing themselves and how they feel what the future holds, I talked with Coach Marcus Gill.
First, an introduction to the coach. Coach Gill has a long history when it comes to coaching basketball. He stated that he first started coaching at the age of 12, assisting his dad for his little brothers' team. From there, he began coaching for an AAU Michigan team at 19 years old, coached college basketball for about 15 years, and now is proud to coach the varsity team here at Concord. When asked about how he was feeling about the upcoming season, he responded with, "It depends on the day, but I'm feeling pretty good about it. I think that we have some talent; but we also have a lot of work to do. Our guys are practicing hard and competing in these scrimmages, which will tell us a lot. But I think we have a chance to compete at the top of our conference and possibly win our district if we do things the right way." Coach Gill added that his goal for the season is for the players to become their best by the end of the season, but the big thing for all of them is to win. "I really want to win. I think that we have the potential to win the Big 8 Conference, I want to win our district, and hopefully make a run in the state tournament."
Concord is home to some great athletes. When I asked Coach Gill about this years lineup of players, he completely agreed and stated, "I think that we have a good senior lineup, Graeley Sprague can really shoot the ball, and this is his third year playing for me so he really knows how to play, Mekhi Wingfield, I think is one of our most talented guys in the area. Then we have Omarion Culliver back on the team, which is gonna help us a lot. Then all of our young guys got some great experiences last year like Tyler Carpenter, Anthony Evans, and Isaac Waldron. They all should help us out as well." Junior Isaac Waldron is excited for the season, sharing this statement: "We have a pretty good team here, I'm feeling pretty confident for this season, so hopefully we can win and work our way up to win the Big 8."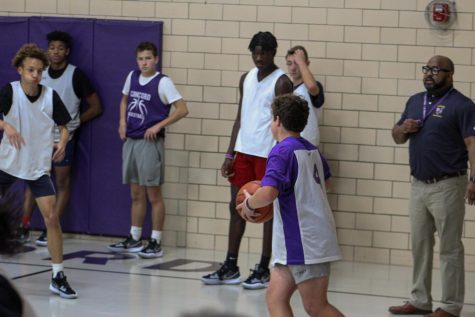 Motivation is one the biggest key to success, so I asked the coach how he motivates his players before a game. He responded with, "Practice makes perfect. It's all about the way that you practice. We like to talk to our kids about being a student-athlete, where the 'student' comes before 'athlete'. We want to make sure that the students are doing their best in the classroom. This teaches them to do the right thing and to become good people, which is our main focus. We also wanna win some basketball games as well."
This years' lineup holds a lot of potential for Concord. Join us at our first home game, December 16th, as we take on Bronson. Come and cheer with us as we start off the year with a bang!