Recycling is Key
Recycling can help make a better earth.
Did you know that about 91% of plastic is not recycled? Did you know that about 68% of paper and cardboard are not recycled? When these materials do not get recycled the earth and the animals on it are affected severely.
When all the trash starts to pile up in the landfill, the wind can blow it away. Wildlife gets caught or ingests the waste, leading to many animals dying. The wind can also blow the trash from the landfill into the ocean, causing pollution and death for many animals. 
Here at Concord, we have a small recycling system. The Building, Grounds, and Maintenance Supervisor, Bob Vandenburgh shares, "We currently recycle our cardboard boxes and paper. The rest of our daily trash is just placed in the large trash receptacles located behind the high school and elementary/middle school." In the high school, we also have boxes where students can place their cans when they are done with them.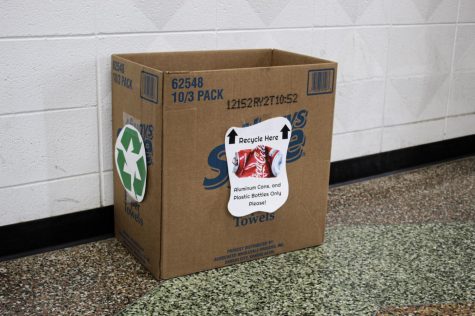 Lunch director, Alan Breneman explains what happens to the trash in the cafeteria. He says, "All of the waste from the cafeteria goes to the trash. We have looked at different sustainable options." The problem with these is there is no one to manage them. Styrofoam trays that the food in the cafeteria is served on have been something the cafeteria has been working to change. The trays take a long time to break down when they are sent to the landfill. They have tried reusable trays, but that did not work well because they kept getting thrown away. The styrofoam trays are the ones that seem to work best for now. They are continuing to try and make the cafeteria as sustainable as it can be.
Freshman, Gabriella Herzberg thinks we should have more recycling bins at Concord. She says, "There is a lot of paper that gets wasted when people throw it away. Recycling would help save the trees from being chopped down, so we have less Co2." She thinks that we could put up signs around the building and persuade people to recycle.
Anyone who wants to recycle can. An easy way is mobile recycling trailers. There are currently three trailers in three different locations. The first one is located at 130 E. Burr Oak St. Athens, MI 49011. The second one is 166 Spires Parkway Tekonsha, MI 49092. The newest one is located at the Sheridan Township Building, 13355 29 Mile Road, Albion, Michigan 49224. These trailers have staff supervising them and explaining to the recyclers how to use them. Recyclers feed their recycling into the bins and are encouraged to bring their recycling presorted. 
If you are unable to bring your recycling to a recycling trailer or center, there are other ways to help out. Try to be careful of how much plastic you are using. Instead of using plastic straws, use metal ones. Instead of using plastic grocery bags, use reusable ones. Little changes like these can make a big difference. 
One day, hopefully, all of our waste can be recycled instead of thrown into the trash. Until then we can try our best to help the environment by not using a lot of paper and plastic. The more people do, the better our planet will be!